Home

>
Holidays

>
First Choice Splash Resorts - all-inclusive 2013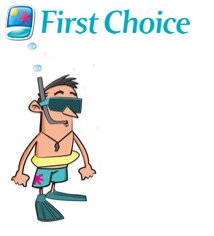 First Choice all-inclusive with waterparks
If you're looking to take the family on a sun soaked, waterpark fuelled, action packed holiday away from the hustle and bustle of everyday life in 2013 - one type of holiday to consider is a
First Choice splash resort
. These holidays are the business for families - like us - with small children in tow. What marks a "splash resort" different to any other First Choice holiday is that all the splash resorts have a waterpark either on-site, or next-door; and here's the rub - entrance to the waterpark is free. Well, we say free, it's all included in the price of your holiday. Which means that you won't turn up hoping for a waterpark action based holiday, only to find that you'll need a second mortgage to pay for everybody to spend the week on the waterpark. Oh no, not with a First Choice splash resort holiday park.
Find out more
First Choice all-inclusive - and that includes the waterpark
When you book your First Choice holiday, you'll be pleased to hear that the price is all-inclusive. What all-inclusive means to you is that you won't end up spending a fortune on holiday. All your meals are included, as are all snacks and drinks. So your children won't spend the holiday hassling you for an ice-cream. Or a coke. Or a snack. All that is included; as is the entertainment. And in the case of First Choice Holidays splash resorts, waterparks come part of the package too.
The waterparks you get from First Choice Holidays are out of this world. We're definitely not talking about one slide and a dribble of water. The resorts are specifically picked for the quality of waterpark. The waterparks have something for all ages, from a splash about in the area for toddlers, right the way up to the "extreme" rides for those with the nerve to ride them.
Where can I find a First Choice Holidays splash resort
There's a First Choice Holidays splash resort all over the sunny areas of Europe. The Balearics, Canary Islands, Greek Islands - you'll even find a splash resort in Bulgaria. Have a look below for a list of First Choice Holidays splash resorts around Europe.
There should be something which takes your fancy. One last thing to mention is the price. When you first look at the price, you might think "blimey, that isn't cheap". And it's true, an all-inclusive holiday isn't cheap. But remember that all the food, snacks, drinks, and unlimited access to the waterpark is included in this price. When you think about what the price of holiday covers, it doesn't seem so bad after all!
Find some First Choice Holidays splash resorts
---
Other articles in Holidays