Home

>
Holidays

>
Cottages 4 You - 11th January 2013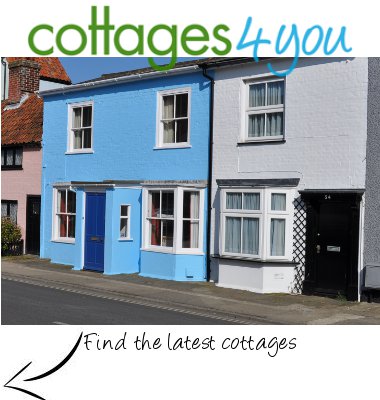 Find the latest cottages from Cottages 4 You
The cottages below are all recently available from Cottages 4 You - these cottages were added to the collection in the week of 11th January 2013. These 32 new cottages get added to 10,000+ cottages already available through Cottages 4 You; so even if there isn't a cottage here which catches your eye, the chances are there will be something within the entire collection which will suit your holiday cottage needs.
The recent additions to the Cottages 4 You collection include
Tor View
near Glastonbury. Tor View sleeps 5 people, and is a great place to get out see what Somerset has to offer you; There's
Glastonbury Tor and the Clarks Shopping Village
nearby - which offers you, respectively, great views across Somerset and a great deals on your shopping. Or another holiday cottage in Somerset is
Meadow Wood
. Meadow Wood sleeps 12 people, so is good for friends and family who wish to holiday together.
At the other end of the country, there's
Tomintoul Cottage
in Tomintoul - in the highlands of Scotland; Tomintoul Cottage is a smaller cottage which can sleep 3 people, and makes a great base to experience the open countryside of the Cairngorms National Park. The final cottage to give a special mention to is
The Bolt Hole
in the Devon countryside. The Bolt Hole sleeps 4 people, and is perfect to explore the countryside or beaches in this popular area of England.
Other cottages added this week are:
Old Byre in Lochwinnoch
Little Pengarrock in Porthallow, near Helston.
The Landings - Apartment 10 in Filey
Lough Ree House in Glasson, near Athlone, Co. Westmeath
April Cottage in Sandown
Coach House Stables in Dawlish
Livet Holiday Cottages - Livet End in Livet Holiday Cottages, Tomintoul, Ballindalloch
Springtide in Hunstanton
Greenviews West in West Overton, near Marlborough
Junipers in Puncknowle, near Bridport
Downanhill Farm - The Byre in Ballantrae
The Landings - Apartment 7 in Filey
Downanhill Farm - Downahill Cottage in Ballantrae
Wallaceton Cottage in Auldgirth, near Moniaive
Dalmunzie Highland Cottages - Gate Lodge North in Glenshee, Kirkmichael
Island Bay View in Sallachy, near Dornie
The Landings - Apartment 6 in Filey
Hatton Cottages - The But 'n Ben in Dunkeld, near Pitlochry
Holly Cottage in Colvend, near Rockcliffe
Fishery Cottage in Drowes Bridge, near Bundoran, Co. Donegal
The Landings - Apartment 1 in Filey
The Landings - Apartment 2 in Filey
The Landings - Apartment 3 in Filey
The Landings - Apartment 4 in Filey
The Landings - Apartment 5 in Filey
The Landings - Apartment 8 in Filey
The Landings - Apartment 9 in Filey
For the very latest in holiday cottages from Cottages 4 You, have a look at our
cottages which have recently been added
page.