Home

>
Holiday Parks

>
Choose a lodge with a hot tub - reasons for a hot tub holiday
Reasons to try a lodge with a hot tub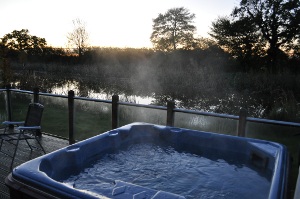 Find a lodge with hot tub
Are you thinking of taking a lodge holiday? If so, have you considered a hot tub too. having a hot tub is good for so many reasons. So, what we've done is listed the reasons why we think hot tubs are so good. And, most importantly, if you fancy a hot tub holiday yourself, we've provided a link so you can find a lodge for yourself. Just click on the button below to search for your perfect lodge with a hot tub.
Find out more about lodges with a hot tub
What a way to relax
Top of our list for reasons to choose a lodge with a hot tub is the relaxation. There's nothing quite like the peace and quiet of a lodge, coupled with laying in your private hot tub.
A great place to read
There's precious little time during your standard daily life to enjoy a good book. So make sure you take a selection of books on your lodge holiday - the hot tub makes a fantastic place to do some well earned reading.
rain or shine - the hot tub is waiting
It doesn't matter what the weather is doing - rain, sun, even snow; when you're submerged in your hut tub, it doesn't matter what the elements throw at you: the hot tub will stay at a steady 39°c - so you won't get cold.
Share the hot tub experience
Whether you're going for a romantic break. Or you've got the kids in tow - a hot tub makes a good place to share your holiday. Get the kids into bed, and adjourn to the hot tub to enjoy a glass of wine together.
Enjoy the wildlife
Most lodges with hot tubs are in a countryside setting, so you have plenty of opportunities to see the local wildlife. And I don't mean you need to go yomping through the countryside - oh no, just lay quietly in your hot tub, and watch the wild life from there.
So, there you go, just a few reasons to get a lodge with a hot tub. I'm sure there's dozens more reasons. Why not get yourself a
lodge with a hot tub
, and see why a hot tub is just so fantastic.
Find a lodge with hot tub
---
Other articles in Holiday Parks